Organic India Amalaki Health Benefits, Dosage and Side Effects
Table of Contents
General Introduction
Organic India Amalaki provides a full bioavailable source of natural Vitamin C that is easily digested and assimilated. Amalaki detoxified & rejuvenates the digestive system and gastrointest inal tract, and reduces acidity. Amalaki is anti-aging, naturally abundant in antioxidants, helps reduce free radicals and boosts immune response. 
Amalaki is a Precious Fruit that is rich in Natural Antioxidents including Vitamin C. It is outstanding in its ability to nourish and rejuvenate the body and mind. It is considered to be a primary cooling rejuvenator in Ayurvedic medicine. It is prepared from Amala which is also termed as Indian Gooseberries.
Also Read : Organic India Tulsi Sweet Rose Health Benefits
Organic India Amalaki Health Benefits
Improves oral ulcers and bleeding gums
Rich source of natural Vitamin C
Anti-ageing
Improves eyesight
Strengthens immune system
Rich in natural antioxidants
Mild laxative
A primary cooling rejuvenator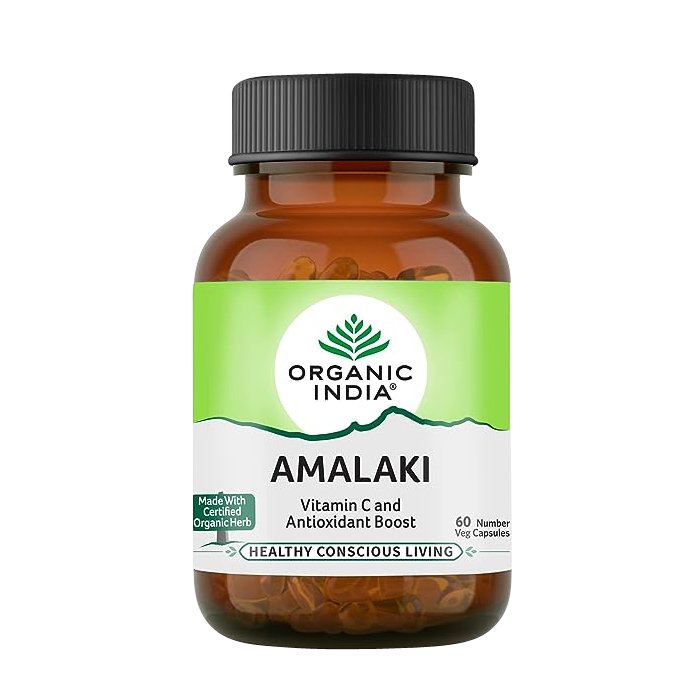 Organic India Amalaki Dosage
1-2 capsules with food & water twice daily for at least 3 months or as directed by your health care provider. Safe for long term use.
Organic India Amalaki Indication
Low immune states
Chronic and recurring cold
Fever
Allergy
Skin Infection
Hyperacidity
Oral Ulcer
Bleeding Gums
Eye Disorders
Also Read : Organic India Cinnamon Health Benefits, Dosage and Side Effects
Organic India Amalaki Ingredients
Each Amalaki HPMC veg capsule contains 500mg:
Organic Amalaki fruit* (Phyllanthus emblica)
Organic India Amalaki Basic Information
| | |
| --- | --- |
| Features | Description |
| Product Type | Ayurvedic |
| Capsule Shell | Vegetarian |
| Qty Nos. | 60 Capsules |
| Expiry | 36 months from Date of Mfg. |
| Country of Origin | India |
Organic India Amalaki FAQ
Q1 How Amalaki is helpful in running nose?
Since Amalaki is a rich source of Vitamin C due to which it helps in increasing the immune system as well as in controlling the running nose.
Q2 Is Amalaki effective in skin allergy?
Yes, Amalaki is quite effective in skin allergy and rashes.
Q3 Does Amalaki help in reducing the acidity?
Yes, it reduces the acidity and tries to heal the peptic ulcer earlier.
Q4 How does Amalaki help in constipation?
Since Amalaki is a part of Triphala capsules, which help in treating constipation.
Q5 Is Amalaki helpful in cough and cold?
Yes, Amalaki along with Immunity capsules as well as Breath Free capsules is quite effective in treating cough and cold.
Q6 Do Amalaki effective in hair fall?
Many times hair fall occurs due to vitamin C deficiency, Amalaki will help in stopping hair fall.